RESHAPING THE PUBLIC SERVICE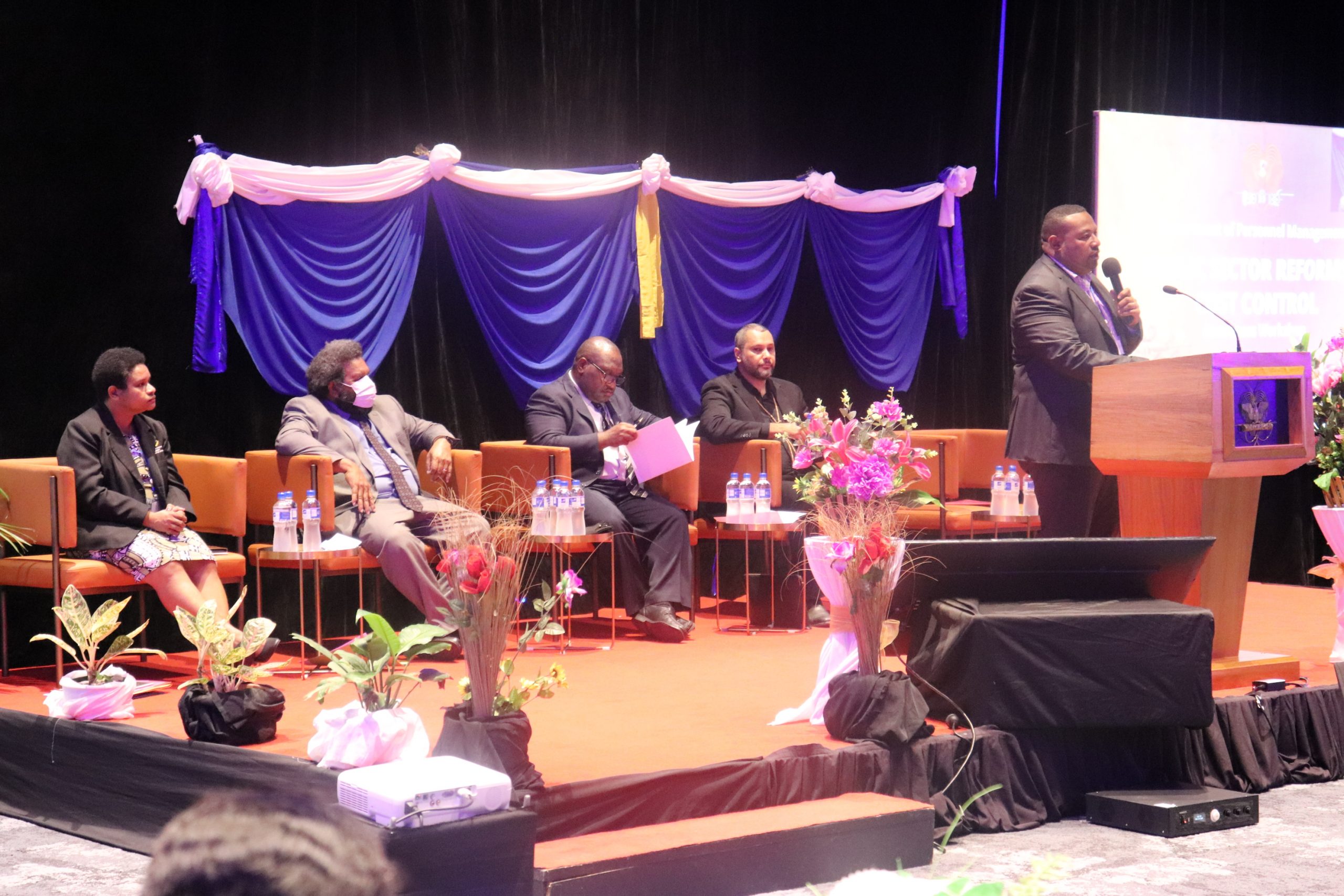 "The input we make today must be the correct input that will reshape the course of our country so that in the next 10 years when we look back, our generation has made the greatest impact in reshaping the future of our country. The reshaping of our country starts with reshaping the Public Service".
These were the words of Prime Minister James Marape when he opened the 2-day Public Sector Reforms and Cost Control workshop at APEC Haus on the 19th of October. Mr. Marape who has taken an interest in the reforms the Department of Personnel Management has undertaken, spoke of the many challenges the government faces regarding the Public Service and the need for reforms to modernize the public service taking into consideration cost controls.
The Prime Minister in addressing the workshop which had an overwhelming turnout from heads of line agencies, spoke at length about cost control and one of the main issues he stressed is the need for all public servants to be on contract.
Mr. Marape outlined that the Public Service consumes about 70 percent of the governments cash revenue and called for discussions during the workshop to be around measures that could address costs.
"Public Servants have a serious responsibility to the nation as we consume 70 percent of the total revenue collected". He highlighted a number of the challenges that the workshop should deliberate on to stop unnecessary growth and to make the Public Service leaner and flatter. One of the suggestions he made was for the utilization of the Public Private Partnership and advise how well this can be used. Mr. Marape made the call that after 45 years we need to have a better vision for the Public Service. "Let's reward performance and discipline lack of performance.
"I want a Public Service that's performing". The Prime Minister said the workshop was timely and that he was glad the conversations are taking place. Among other issues Prime Minister Mr. Marape highlighted redeployment of agency heads into other departments and the independence of the Public Service when it comes to Executive Appointments.
Public Service Minister Soroi Eoe in his remarks told the workshop that one of the governments priorities is to reform the Public Service to make it efficient, responsive and cost effective. Minister Eoe also highlighted the 6 priority areas of his Ministry and among them is for the creation of a smarter, leaner organization structure removing duplication and inefficiency. Secretary Taies Sansan in welcoming all line agencies to the workshop told them that the department needed to share with them all the challenges of the Public Service. Ms. Sansan said the objective of the workshop is to share what the Department as the key lead agency in HR matters is doing on the progress of legislative reforms especially in the areas of governance, policy and capacity building.