CLRC Completes GESI Training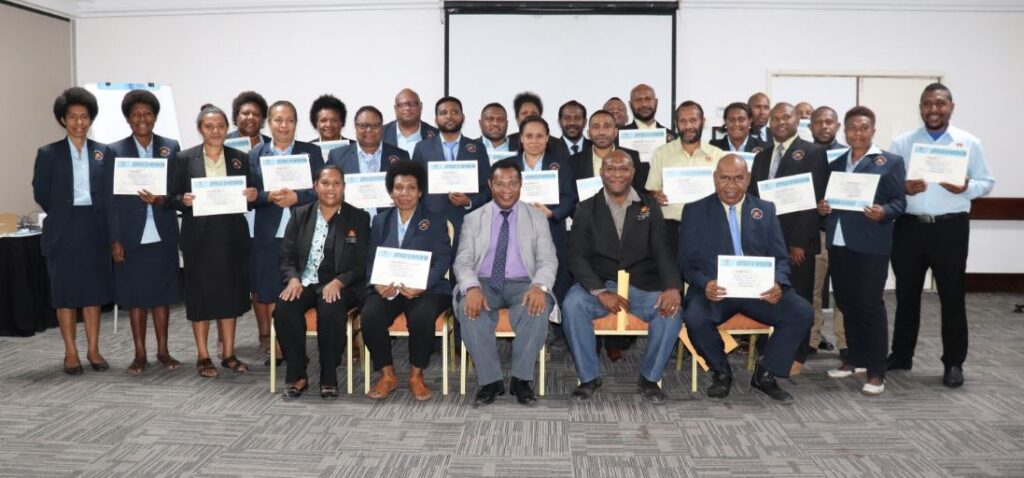 The Gender Equity, and Social Inclusion (whole of Government) branch have recently completed a two days GESI workshop with the Constitution and Law Reform Commission.
This has seen 32 participants receiving Certificates of Attainment that they have been GESI sensitized.
Executive Manager, GESI (WoG) Mr Emmanuel Ginis who represented  DPM Secretary, Ms Taies Sansan told the participants to go back and practice GESI at workplace, at home, and in their communities to contribute change in the society.
Mr Ginis applauded CLRC for their continuous and tremendous implementation of the GESI policy, and their lead in the Law and Justice Sector.
CLRC Secretary, Dr Mange Matui, said CLRC will engage DPM to conduct more refresher workshops for his staff on GESI related matters.
Dr Matui said CLRC is the Chair to the Law & Justice Sector Gender, Equity, Disability and Social Inclusion Committee of Practice, and such workshops is important to CLRC.
As the leading Agency in GEDSI, CLRC has launched its Sexual Harassment Workplace policy in 2020, and are currently working on the Domestic Violence  Policy, and the Health and HIV/Aids Workplace Policy.
Dr Matui thanked DPM for being the custodian of GESI policy and for rolling it out to government agencies.
"GESI values are fundamental that we learn at home; love, respect, the foundations that maes us human beings," Dr Matui said.
Meanwhile, DPM EM, GESI (WoG), Mr Ginis said DPM will continue to rollout GESI Mainstreaming and Sensitization workshops to all government agencies, upon their requests.