DPM Staff Inducted into the Public Service

Nine officers from various divisions and Branches within DPM were inducted as Public Servants.
The officers are the first batch of 2021 probationary officers from DPM to be inducted at the Somare Institute of Leadership and Governance (SILAG).
Human Resource Advisory Services Compliance and Audit Unit Deputy Secretary,  Ms. Constance Baisi    congratulated the inductees and encouraged them to continue to strive in upholding the Public Service Code of Ethics and to have the good values instilled in them.
"I want to encourage you all to uphold that at all times, our doors are open, we are here for guidance and support and whenever you need assistance, please feel free to come and see us" said Ms. Baisi.
Ms. Baisi thanked the nine officers for their commitment during the week long induction program and officially welcomed them into the public service.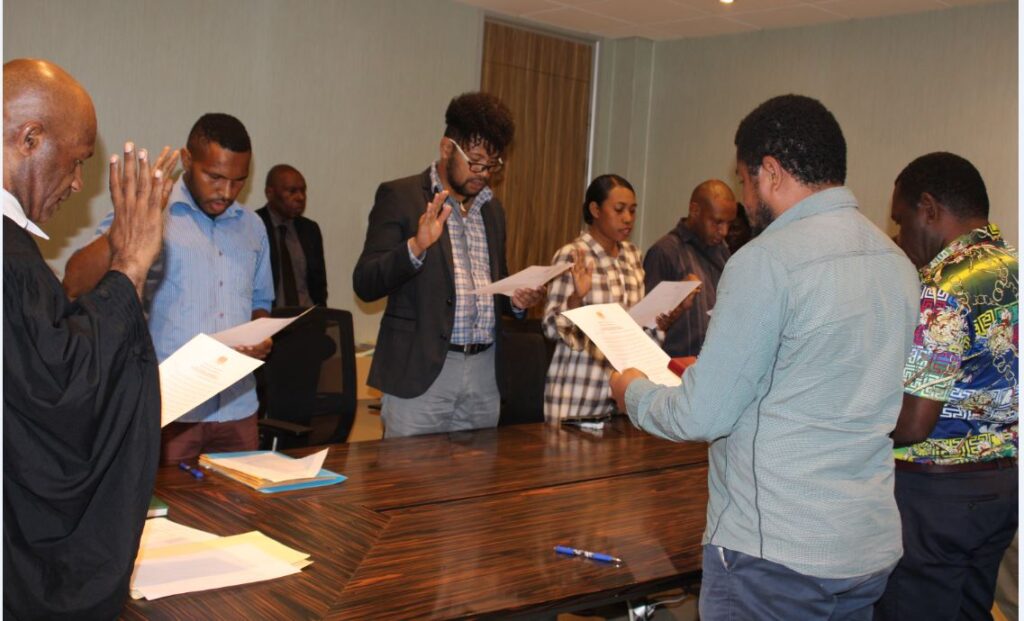 The nine officers are Mr. Norman Pena Performance Management Officer, Mr. Moses Kenowa District Housing Officer, Mr. Clement Nongo Research Officer (Govt. Pay Policy) Mr. Adrian Abedi Research Officer (Salaries  Commission & Monitoring Committee ), Ms. Lithiana Nondebia (Gender Equality & Social Inclusion Male Advocacy Network), Mr. Uakai Bouaka Assistant Statistics and Analysis Officer (National Agencies), Mr. Brandon Nepe (Staffing and Establishment Officer), and Mr. Sionney Haiveta (Contract Admin. & Employment) Advisor.
One of the inductees, Mr. Clement Nongo said the program was an eye-opener for most of them to be able to fully understand the Public Service, through the three programs that were covered.
"Through the Orientation to Agency, Orientation to Public Service and Orientation to Job program, we got to understand what public service really is," said Mr. Nongo.
He added that as government pay policy officer, he intends to use the knowledge acquired from the induction to fully  implement what is required of him from the department to fulfil its aims and objectives which will enable him to do his job efficiently and to ensure there is service delivery at the end of the day.
The five-day program started from the 07th and ended on the 11th of this month and was conducted by SILAG, and was facilitated by Mr. Diki Saia, the Public Service Induction Program Coordinator.