ERS Conducts KPI Workshop for MBPHA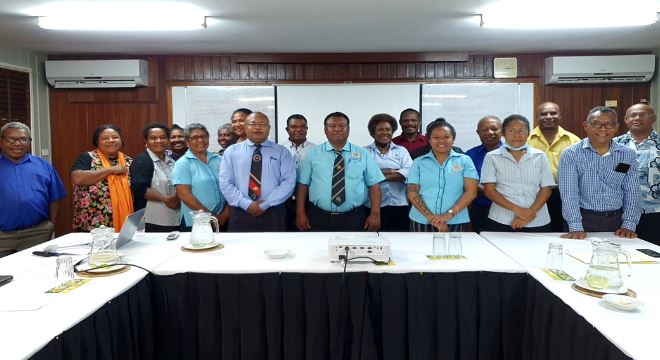 The Executive Contract Administration Division, under the Executive Resourcing Services Wing have recently conducted a successful two days workshop with the Milney Bay Provincial Health Authority (MBPHA) on the development of the CEO's Key Result Areas.
The workshop was held on the CEO's request for DPM to assist Milney Bay PHA to provide technical assistance of the heads of agencies Performance Management System, to develop the CEO's 2021 Key Result Areas.
The training was attended by the senior staff and management of the Milney Bay Provincial Health Authority.
Presentations were on the PMS Online program, PMS Contractual Obligations, PMS Business Process, Introduction of the Data Gathering Forms, and the Facilitation of the Formulation of the KRAs.
Two sets of KRAs were provided to guide the senior officers to agreeing on to develop the CEO's KRA.
The KRA that was developed by the CEO, Dr Perista Mamadi himself, and the KRA's and Key Performance Indications (KPIs) developed by the National Health Department.
Executive Manager, Executive Contract Administration, Mrs. Marita Kouga who facilitated the training said the training and group discussions has helped the senior management of Milney Bay PHA to understand and know how to create their CEO's KRAs and KPIs.
Mrs. Kouga said DPM will continue to assist MBPHA until they build their capacity on using PMS Forms and utilizing the Online System.
Mrs. Kouga said some of the KRAs and KPIs DPM have assisted them in creating through discussions from the workshop are;
– to create an Urban Health Service
– Need to outsource outpatient services, and
– annual meeting for PHA Boards with the Minister for Health to discuss how to support the PHA and for the needed support of stakeholders in implementing Health Reforms.