Joakim Graduates Despite Covid-19 Pandemic Challenges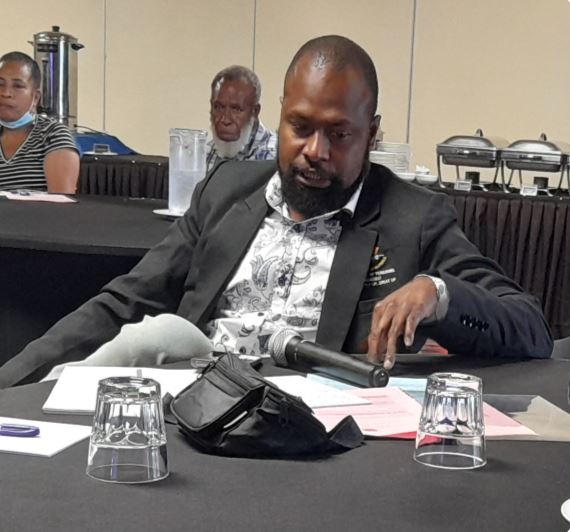 In this month's edition, we feature Mr. Joakim Luma, Manager Legislative Reforms.
Luma is 36 years old and married with three  children.
He hails from Mai Village in West New Britain Province.
In 2020, he left for studies at Australian National    University, under the Australian Awards scholarship to do his masters in Public Policy for two years.
It was also during the time of Covid-19 Pandemic, and strict lockdown measurers were put in place,   restricting people's     movements.
Many of Luma's colleagues suspended their studies in fear of losing their lives to Covid in another country, and returned to home to their families.
"It was challenging for me when my colleagues left. I wrote to the former DPM Secretary, who is the current PNG High Commissioner to Australia, His Excellency John Kali, if I could suspend my studies and return to PNG," Luma recalled.
"Mr. Kali encouraged me to stay put and complete my studies, which I'm grateful I sought his advise," said Luma.
"Those of us who were there just relied on WhatsApp video call to keep in touch with our families".
"It was depressing having lectures and classes online, there were movement restrictions and we had no one to talk too, no where to go, and a lot of my colleagues have experienced mental breakdown and loneliness".
A positive experience during these challenging times for Luma was the savings culture, where he managed to save funds.
Luma stood the test of time during Covid and graduated with his Masters in Public Policy.
"It was a great union for me and my little family," Luma said.
His daughter was just two months old when he left for studies in early 2020.
When he returned at the end of 2021, his daughter was already two years old.
Luma thanked DPM for supporting him and has   encouraged young DPM   officers to take on the challenge and apply for such scholarships while they can.