Sansan Commends SILAG & Dauli College of Higher Education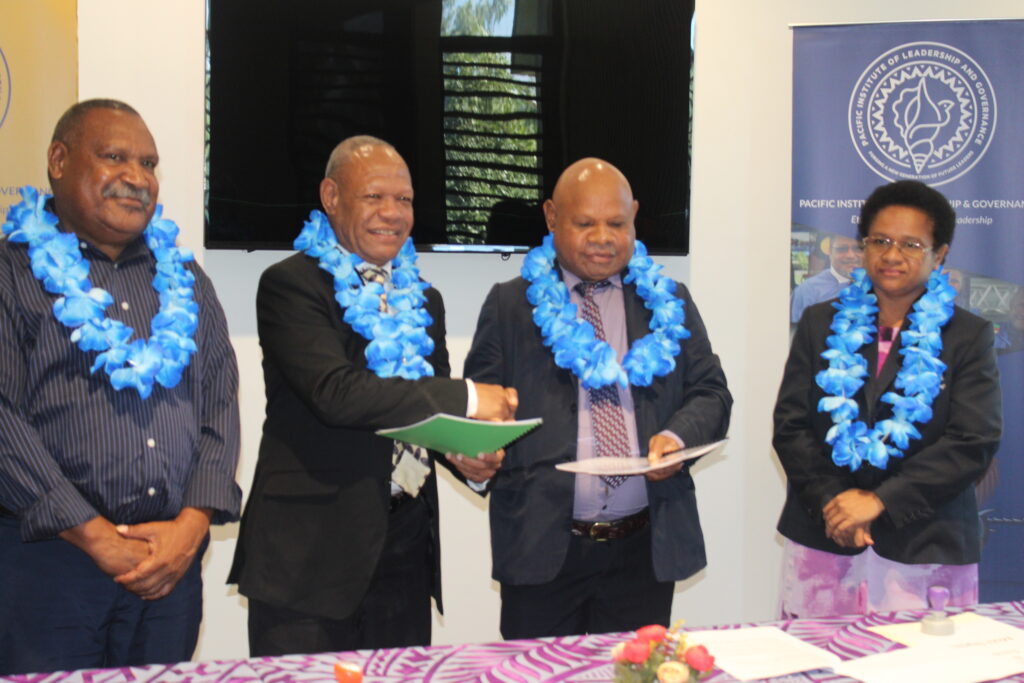 Acting Chair-lady of the Somare Institute of Leadership and Governance  (SILAG) interim board and Secretary for the Department of Personnel Management, Ms Taies  Sansan commends SILAG and Dauli College of Higher Education for fostering a partnership  which will see both Institutions having exchange programs.
Ms Sansan was happy to   witness the signing of a Memorandum of Understanding which will seal and guide the two institutions' exchange programs of upskilling lecturers and tutors, for  offering sister programs, and seeing  reforms taking shape.
"The event is a milestone in the history of PILAG, now  SILAG as it signs its first MOU with a Teacher's College in PNG, so that we achieve better things for our public servants and teachers in Hela and PNG," said Ms Sansan.
Ms. Sansan said she is privileged to observe first hand reforms that the premier school of Governance has taken under the watch of the current CEO Mr. Michael Barobe and his management in the last four years.
"I am pleased and honored to be given this privilege to speak to signify what I am sure will be the beginning of a very long and fruitful partnership in Public Sector capacity in building Hela  Province, the Highlands Region and Papua New Guinea", said Secretary Sansan. 
She said the MOU signifies the meeting of two minds of the respective heads of agencies that are progressive and sympathetic towards the opportunities and challenges of the reform agenda driven by the  Marape-Rosso government.
"Therefore, such collaborations are encouraged to exemplify and embody the government's whole of government approach to doing government business," said Ms Sansan. 
Secretary Sansan said that it is important that the Policy reforms the government is driving is understood, especially, the Public Service Human Resource Development Strategic Plan 2020-2050 (HRDSP) that highlights strategies on how to deal with issues in the public  service in the next 20-30 years.
"In terms of training, SILAG is seen as the delivery hub of the public service training, therefore, it is pleasing to see that the Dauli College of Higher Education is coming on board with the support of department of Higher Education," said Ms Sansan.
Secretary Sansan said DPM in support of the devolution and decentralization of the financial and administrative powers to the lower tiers of the government is expected to have only 10% of the public servants in Port Moresby, 20% in the provinces and the rest in the districts and wards.
"Therefore, we must all work towards making this ideal become a reality and I urged SILAG and DCHE to have this vision in mind," said Sansan.
The MoU was signed late in March, 2023.