Task Force Holds First Meeting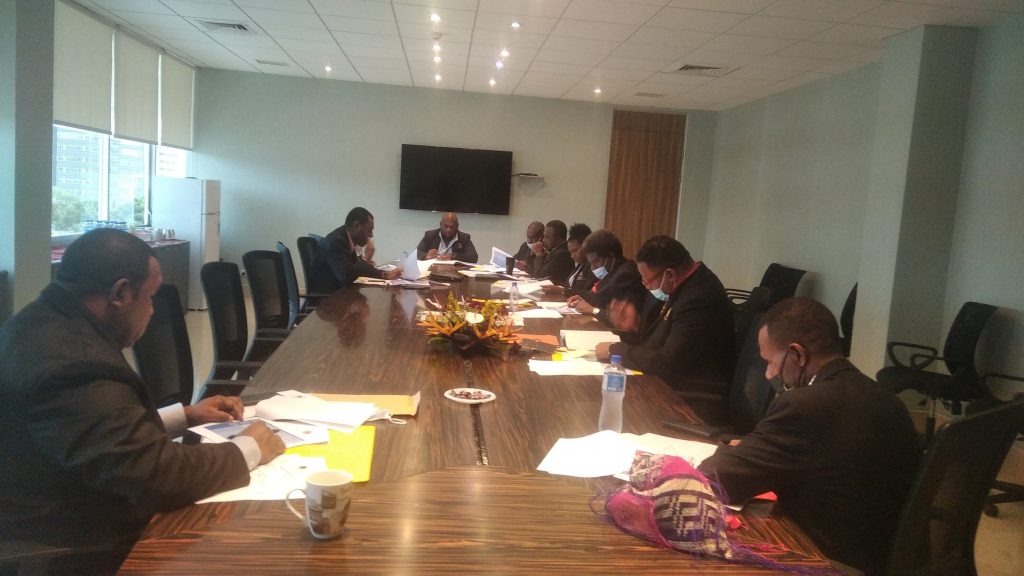 By Journalism student
Esther Gahane
A National Taskforce team has been set up to look into the 29 resolutions agreed upon during the Public Service Reforms and Cost Control Workshop held in October 2020.
The task force comprises of 6 Departmental Heads and chaired by Acting Deputy Secretary Policy & Reforms Mr. Ellison Kalimet on behalf of Secretary Ms. Taies Sansan.
Mr. Kalimet informed the task force that the meeting was an introductory one for members to familiarize themselves on what they are responsible for in terms of implementing the 29 resolutions.
"We were supposed to commence the implementation of the 29 resolutions last year but due to Covid-19 and also funding was to be released by department of Treasury to be allocated to the National secretary to facilitate the meetings for the National Task Force team was released to date by department of treasury so that's why the National Task force team did not hold any meetings last year."
Mr. Kalimet said, the first meeting would be an opportunity for the Task Force members to go through and note the 29. He reiterated, the 29 resolutions are not only the responsibility of DPM but also requires the involvement of other key agencies and that is why other departments have been invited to be part of the National Task Force team to implement the 29 resolutions. "DPM is progressing some of these 29 resolutions that falls under our mandated responsibilities.
We have reported back on them but only on those that involve other key stake holders, we have to capture them in our MAP so that we can have it implemented and report back to the Task Force".
The task force team were given the terms of membership & terms of reference, communication protocols & principles and the guiding principles for the Task Force during the first meeting held on the 3rd of February.
Secretary for Education Dry Uke Komura said, there are 29 resolutions and for them to implement all of them would be a mammoth task so he suggested that they prioritize the 29 resolutions and identify and prioritize them in terms of importance.
Dr Kombra also highlighted that there are some resolutions that require funding so they need to identify where the cost will be coming from and the need to have a budget for those resolutions.
Secretary for Information and Communication Technology Mr. Russell Yoruba said, currently under the Digital transformation policy, the department is digitizing as a Whole of Government approach and they want to start with DPM on the three resolutions that capture ICT issues.
Mr. Woruba said, they have already included them in their work plans and budget and have started their internal planning engaging with stake holders.
Mr. Kaliment concluded that they have taken note of all the comments and they will raise it with the chairperson in the next Taskforce team.