EMT HOLDS FIRST MEETING FOR 2022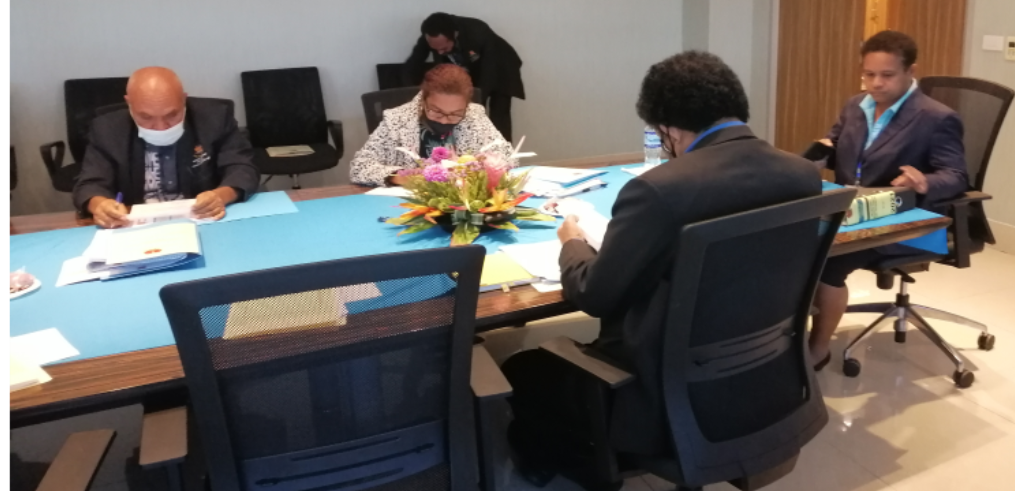 The Executive Management Team held its first meeting for 2022 on the 25th of January.
In welcoming EMT members Secretary Ms. Taies Sansan thanked them for their contributions in 2021 which contributed towards the achievements of the department last year.
She told EMT members to be alert and take heed of what lies ahead. Secretary Sansan told EMT that 2022 is an exciting year as it is elections year but it will also be a challenging with the predictions of the 4th wave of covid-19.
Secretary Ms. Sansan also advised EMT that parliament will have its final sitting on February 22nd and rise.
She advised that there will be a caretaker cabinet for the next 3 months and that public servants will run the government machinery and prepare for the incoming government.
A number of key issues were listed on the agenda for EMT discussion among them is the issue of Time & Attendance and in particular the Clock-In system being currently used by the staff.
Deputies also used the first EMT meeting to provide updates to EMT from their respective wings. An update on the housing basket with Nambawan Super was also provided to EMT by Executive Manager PS Housing Ms. Nancy Levi.
Ms. Levi also provided an update on the 100 allotments for DPM at Duran Farm and further provided an update on portion 1212 at Bomana of which an expected one thousand houses are to be built.
EMT concluded with a number of important resolutions to be pursued by respective branches.