DPM Applauds IRC for Diversity and Inclusion Strategy Launch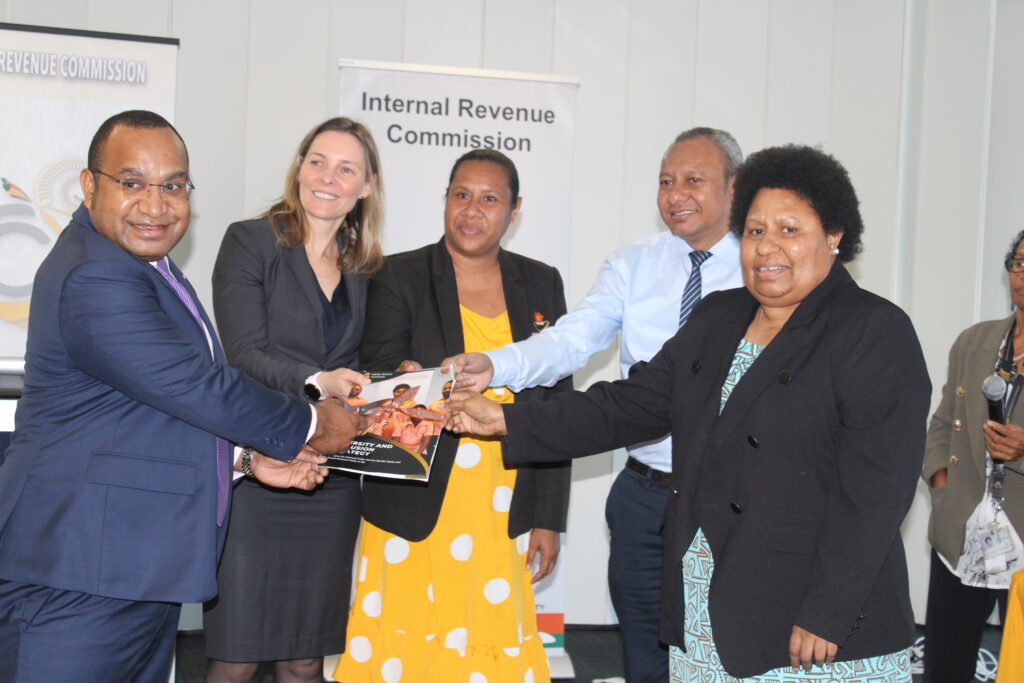 Department of Personnel Management's Acting Manager for Gender Equality and Social Inclusion (GESI) Coordination and Mainstreaming Ms. Amelia Raka applauded the Internal Revenue Commission for launching their Diversity and Inclusion Strategy Plan 2023-2027.
Ms Raka commended the Commissioner General of IRC, Mr. Sam Koim and his management team for ensuring GESI is institutionalized through their mandated responsibility as the organization that provides tax services for all Papua New Guineans  irrespective of their age, gender, origin or personal circumstances.
"Today marks a significant milestone where your agency has now become the first agency in the whole of    government to launch its Diversity and Inclusion strategy 2023-2027 which ensures to demonstrate a   commitment to undertake and implement the principles and value of the National Public Service through specific actions that value and respect the diversity of the employees within the organization and maintain to provide a workplace that is fair, equitable, accessible and inclusive" says Ms. Raka.
The implementation of the Diversity and Inclusion Strategy plan will outline in detail the specific steps that will be undertaken by the respective divisions and branches to focus on achieving the agency's goal of diversity and inclusion in their business governance, practices to make sure there's fairness, equitability, accessibility and inclusiveness is the trademark of the service that they provide.
"As Secretary's delegate, I once again take this time to congratulate you and your management team, staff, GESI focal points, male advocates and your GESI helpdesk for this significant milestone in the implementation of the NPS GESI policy" says Acting Manager GESI Ms. Amelia Raka.
Commissioner General Mr. Sam Koim said that he was proud to be launching IRC's Diversity and inclusion strategy because it will promote diversity and inclusion within the workplace by ensuring that all employees feel    valued and supported. 
"Our approach encompasses a focus on gender equality, employ networks and a strong commitment from the commissioners and senior leaders" said Koim.
He said that this strategy outlines our commitments to developing safe and inclusive environments across all diversity factors including age, disability, ethnicity, gender, place or origin socio-economic status and   religious beliefs.
The Internal Revenue Commission is a pioneering agency in the government in 2016 and has continued to strive to reflect equitable and inclusive practices in both its internal and external service provision.