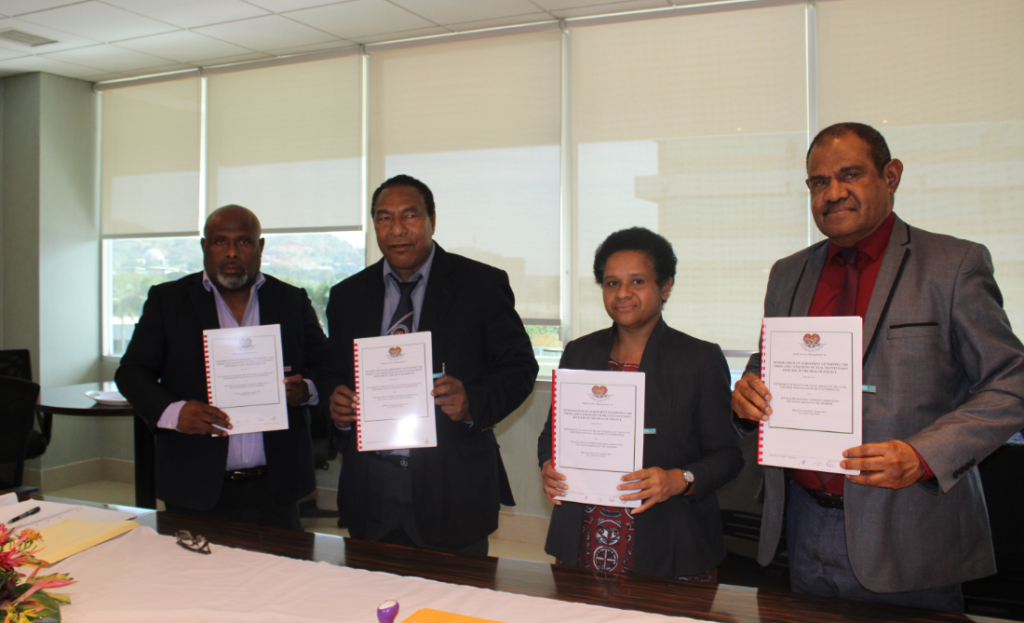 Department of Personnel Management on behalf of the state has signed a Memorandum of Agreement 2023-2025 for Health Extension Officers (HEOs).
The National Health Department signed the MOA on behalf of the HEO Association.
The MOA will see an increase to the allowances of the HEOs nation-wide, which will be factored into the 2024 budget under the NDoH Personnel Emolument expenditure.
The total costing of the current agreement for the Association differs, and is subjected to their awards and the total manpower.
The total costing as at pay 13/2023 under the MOA 2011-2013 has the total manpower of up to 665.
The allowances paid per fortnight is K638, 270.07, and salary paid every fortnight is K939, 997.07.
The HEO awards will cost the State K41 Million annually to be implemented.
The only improvements in this MOA for HEOs are as follows;
1. Increase on the Domestic Market Allowances as per their classification e.g.; Grade 13, currently from K4000 per annum to K10, 000 p/a.
2. Increase in Consolidated Overtime & On-call allowance as per their work locations. Example, Residents working in both Rural and District hospitals from K9.000 p/a to K14,000 p/a.
3. Increase on the Mental Health allowances from K60 to K150 per fortnight.
4. Increased on the Book Allowance from K1,500 to K2,000 p/a, and
5. New Log of Claim not covered under existing award was considered and approved as Rural HEO's Attraction Allowances of K3,000 per annum.
With the new improvements to their existing awards, the projected PE increases are;
· HEO DMA Market is K4, 730, 000.00
· Overtime and On-Call Allowance is K21, 594, 200.00
· Mental Health Allowance K101, 400.00.
This will see the new PE costing of K67,487, 437.76 to be implemented.
The Salary Classifications and Progressions are covered by the Public Service Performance Base Salary Structure through DPM/PEA Salary Fixation Agreement and applied to employees employed in the Public Sector from 2022-2024.
Secretary, Ms Taies Sansan is urging NDoH and all the PHA's to work closely with DPM, Finance, and Treasury to implement the award.
"With this improved terms and conditions of employment, the Government requires a return on investment by improving our health indicators to better deliver effective and efficient services to our citizens," said Ms Sansan.