Staff Profile: Judith's Journey in DPM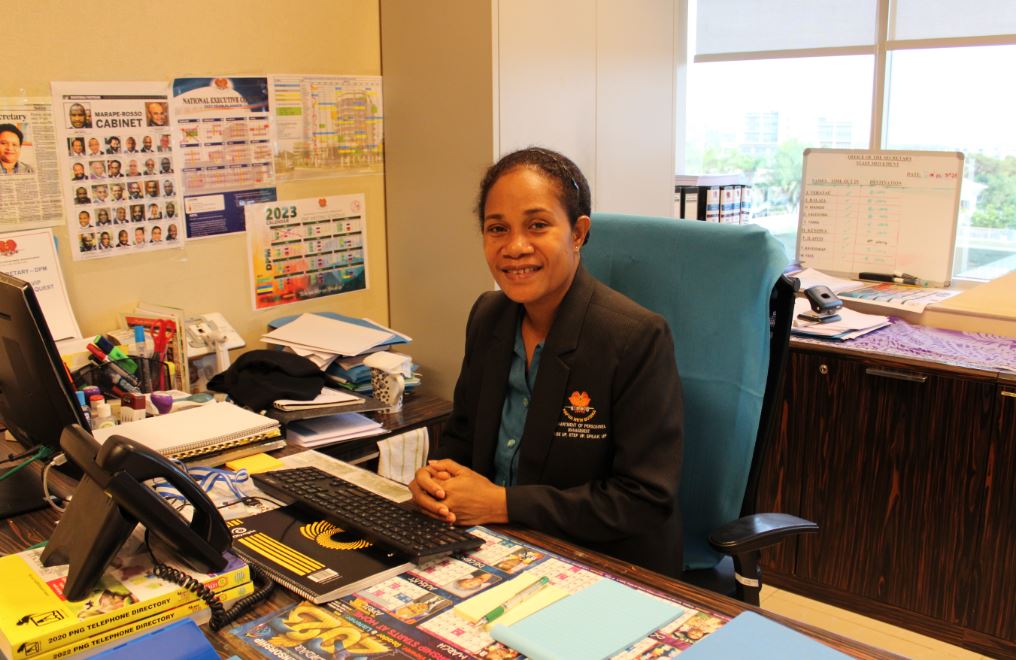 Behind every departmental heads is a hardworking personal assistant.
Ms Judith Balaia said working as a personal assistant for the Secretary of a Central Government agency that is responsible for all the Human Resources mandate and functions of the public service can be challenging and daunting at times, but for her, it has been nothing short of an interesting journey and a learning curve.
Hailing from Miline Bay Province, Judith joined DPM in 2008 as an Executive assistant to the Secretary, and has been working in the Office of the Secretary for a total of fifteen years, two years  under the leadership of former Secretary Late   Margaret Elias, eight years under another former Secretary, Mr. John Kali, and six years with our current Secretary, Ms. Taies Sansan.
"The job is challenging, but I enjoy it everyday because I am an assistant for a female Secretary. I am always glad that I am part of an office that is responsible for decision making", she said.
"I have a passion for the job. That is why I am here at 7:45am every morning and finish off with the Secretary. I look forward to my daily tasks which includes, but are not limited to ensuring that the Secretary's office is ready and set for meetings and appointments are confirmed apart from many others", says Ms. Balaia.
She added that she feels obliged to deal with every correspondences that comes to the Secretary's office and tries to assist in any way that she can because of the nature of the job and the office she's in, which deals with the whole of government and the public service.
 "I am very cautious in making sure that things are running well and are in order, otherwise I refer them to the Secretary, the Executive Officer or the respective and appropriate wings to deal with the matters", she said.
Ms. Balaia said that one of the things that she enjoys about her job is the sense of accomplishment and satisfaction that she gets when a correspondence has been approved as per the directives from the Secretary.
"It is like team work, when the external documents comes in and the Secretary makes her decisions and gives directives and then are sent to the respective Deputies, Directors, Executive Managers, Managers and actions officers, and when the job is done, I always have this accomplishment feeling", Ms Balaia said.
Some of the values that Ms. Balaia strives to uphold in her role as an assistant to a departmental head is the public service code of ethics, being properly attired for work, always be ready and willing to assist the external and internal clients that walk into the office and to always put God first in everything that she does.
Her advice to young people who would like to join the department and the public service as a whole is to be passionate about your job, be loyal and to abide by the  Public Service code of ethics.
She also urged new and young staff to do their jobs with dignity and diligence while striving and standing for the goals, aims and the missions of the department.