Staff Profile: Rugby Star turned Security Supervisor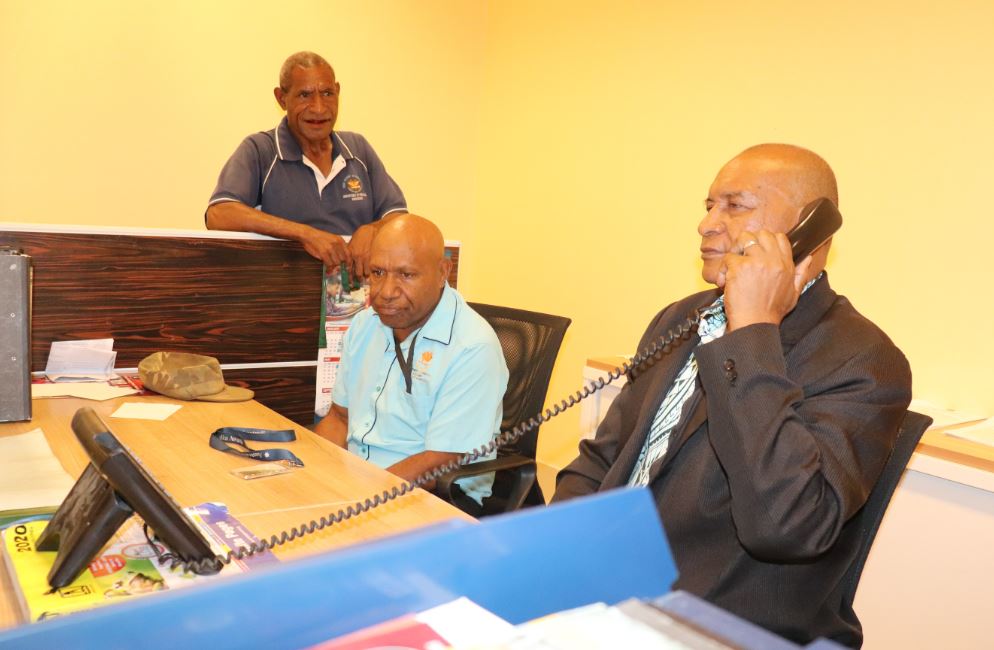 In this month's edition of the newsletter, we feature DPM's famous, Moses Hulea.
He is no stranger to PNG in the 80's as one of the rugby stars playing in the National Rugby League.
Growing up in his village at Aroma Coast, Abau, Central Province, Hulea saw his life and carrier in Rugby League.
He was 7ft tall, young, masculine, and a greatest rugby fan himself.
Hulea jokingly boasted that his built, talent and rugby skills in the field made him married to an Australian mixed Milney-Bay girl in 1986, who was doing her Grade 10 that time.
His wife passed away years back, leaving him with two children and four grand-children.
He played for the Southern Zone team as the 'Utility forwards'.
He captained the  Southern Zone in 1986, defeated the Highlands Zone, and traveled the same year to New Zealand and beat the Kiwis.
This was his proud moment, but after having his first child, he needed to settle down so his popularity and the certificates he had landed him a job at the Prime Minister's Department in 1991, as the Security Operations Officer.
In 1997, the Building and Security section was transferred to the Department of Personnel Management.
This has seen him moved to DPM, continued his job and has since provided security to Public Service Ministers, DPM Secretaries, and staff.
He has since sacrificed his life and family, providing security and surveillance on clients visiting the Public Service Minister of the day and the Secretary of the day.
After 25 years of dedication and service to the state, Mr Hulea call it a time to retire, and enjoy his retirement benefits at the age of 63 years old.
He has the remaining months this year to complete his service.
"I am currently the Security Operations Supervisor at DPM," said Hulea.
"My everyday activity is to  firstly allocate security tasks to my officers, wait at the ground floor to escort the Secretary to her office, screen clients before sending them to see officers at Level 3, 4 & 5," he said.
"After screening them and sending them up, I makesure those who are here to visit the Secretary or the Minister are monitored and I make sure surveillance is provided," Hulea said.
"But the thing is I can't do this myself, it takes team work to achieve some things. My encouragement to all the DPM staff is to know the job descriptions and understand the General Order, to be proactive and be responsible public servants. I am just looking forward to my retirement, go back to the village and relax", said Hulea.